Erscheinungsjahr: 13.05.2015
Power it up Records / EPLP / Noisepunk – Mincecore / Belgien – England / 7 Songs / 15:21 Minuten
Es gibt sie einfach, diese Label, die einen auf den ganzen Weg begleiten, sich selber, dem Musikstil, dem Buisness und dem Underground treu geblieben sind, ohne großes rumalbern oder aufplüstern. Mein absoluter Respekt. Power it up Records ist so ein Label. Grindcore/Hardcore Freunde dürften ja eh begeistert sein, wenn eine neue Veröffentlichung ansteht. Ich bin eigentlich immer begeister, zumal sie meine Belgier von Agathocles absolut supporten.
Und die Belgier von Agathocles machen auch den Opener und liefern uns vier neue Songs, die extra für diese Split aufgenommen wurde. Nichts neues aus dem Hause AGATHOCLES und dieses ist ein positives Statement. Ihr uftatata Grind genannt Mincecore gefiel mir auch immer und auch diese neuen Songgs machen echt Laune, Beosnders die beiden Endsongs "Anarchist spectrum disorder" und "Stick it deep" gehen voll unter die Grindhaut und düfte jeden Fan der Band und des Grinds überzeugen. Eine Band, die bis zum Ende alles durchzieht und wohl einen Splitrecord aufstellen möchte. Gnadenlos geil, natürlich nur was für Sickos, aber alle anderen können ja auch bei
Saturn oder Media Markt einkaufen gehen.Seit 1985 ( als Hellsaw) gestartet, ziehen sie ihr Ding gnadenlos durch. Wahnsinn, ich bin begeistert. Während "Total Braindead" und "Prison made of crowds" typische Stampfer sind und mit einen gesprochenen Intro eingeläutet werden, hauen die letzten beiden Songs mich total um. Ich glaube, die könnten auch belgische Volksmusik machen und ich würde es geil finden, hehe. Rauh, minimalistisch, auf dem Punkt bringen, Soziakritisch und Achtziger Grind mit old schooligen Grind Sound, ja auch dazu stehen AGATHOCLES 2015. Respekt!
Disorder aus Bristol/UK dürfte auch den ein oder anderen ein Begriff sein, denn sie sind eine absolute Legende. Diese alten Punker sind bereits seit 1980 dabei und können auch nicht ohne. Musikalisch bieten diese drei Songs eine Mischung aus Punk, Hardcore, Crust und Noise. Sie dürften einer der ersten sein, die in UK ordentlich Dreck aufgewirbelt haben und ihre Meinung laut und ordentlich ausdrückten, gegen das Etablishment. Musikalisch versteht sich, so wie es sich gehört, Musikalisch können sie meiner Meinung nach aber nicht mit AGATHOCLS mithalten. Man verfolgt ja auch ein wenig eine andere Richtung. Der Sound ist auch etwas schwächer und dünn, spiegelt natürlich die alte Zeit wieder.Obwohl ja mein geliebter Grindcore sich aus dem Punk und dem Hardcore entwickelt hat, kann ich mit der Richtung nicht viel anfangen und habe sie auch nicht weiter verflgt. Wer Pogo tanzen möchte , ist hier aber genau richtig, besonders "Victim of police" bietet sich dafür an. Typische Punkgeschichte in Richtung Sex Pistols. Dabei gehen Disorder aber wesentlich rauher und aggressiver zu Werke und man darf ihren Sound als "Noisepunk" bezeichnen. Geht gut ins Mark, ist aber nicht so meins.
Festhalten muss man, dass diese Spilt Spaß macht. Die EPLP ist auf 100 Stück limitiert, also schnell zugreifen!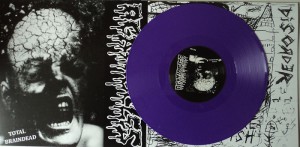 1. Agathocles – Total Braindead
2. Agathocles – Prison Made of Crowds
3. Agathocles – Anarchist Spectrum Disorder
4. Agathocles – Stick It Deep
5. Disorder – Chaos and Disorder
6. Disorder – Victim of Police
7. Disorder – Massacre of Fish