Gestern (14.09.2015), spielten "Grumo" (Death Grind aus Italien), "Implore" und "Age of Woe" in der Gerberstrasse 3 in Weimar. Wir von Power it Up waren mal wieder mit von der Partie. Nachdem wir am späten Nachmittag die Kulturstadt erreichten, ging es nach einem kurzen Gang durch die weimarer Innenstadt, ab zu dem Haus welches seit dem 17.März 1990 von linken Aktivisten besetzt wird.  Ab 20 Uhr füllte sich so langsam der Schuppen und eine gute Stunde später legten Grumo mit ihrem Set los. Die vier Jungs aus Modena (Norditalien) spielen Death Grind und heizten der Menge ordentlich ein. Nach einer kuzen Pause ging es dann weiter mit Implore. Hamma!!! Neben einigen neuen Songs von der Scheibe "Depopulation" , wurden aber auch ältere Stücke von der "Black Knell EP" gespielt. Ich war mal wieder mehr als begeistert von dem Brett was die 3 Typen an dem Abend lieferten. Es folgten Age of Woe… Neben einer gerissenen Bass-Saite lief der Auftritt aber auch astrein.  Nun leerte sich das Haus allmählich und wir ließen den Abend mit ein Paar Gläsern Whisky ausklingen.


(Gerberstrasse 1+3)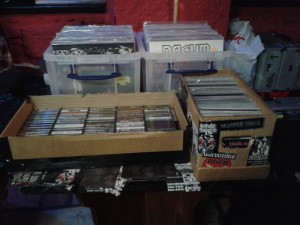 (Power it Up Distro)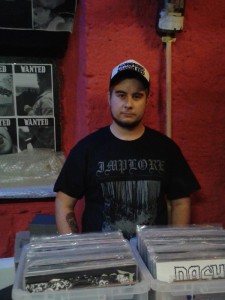 (Ich bei der Arbeit)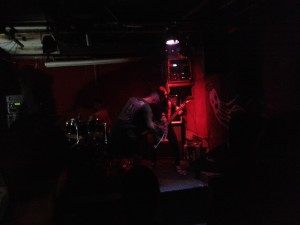 GRUMO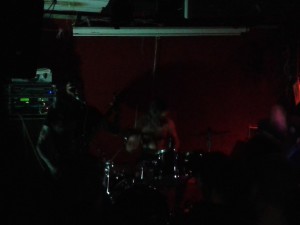 IMPLORE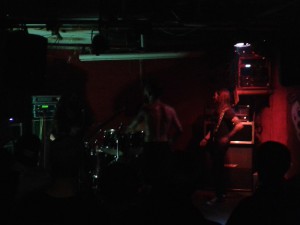 AGE OF WOE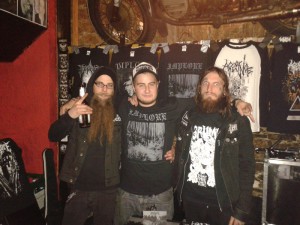 Nach der Show-Feierabend!!!
(v.l.n.r. Daniel, Fabio und Gabbo)