New 20 track EP recorded during their south america tour in 2007.
Japan and Germany teams up for a brutal piece of plastic! Germanys GOMORRHA deliever us 3 brutal grind-metal-violence hardcore smashers. Japans HELCHILD join that split with 2 songs of bombastic, emotive, energetic metal influenced hardcore. The split comes with outstanding stamped-cover.
ultrabrutal furious crasher crust from the states by SKÄNKA. 7 raw noisy tracks in the vein of CONFUSE, FRAMTID, GLOOM and the likes. this is their demo on vinyl for the first (and last) time. members also play in DISABLE (which i love)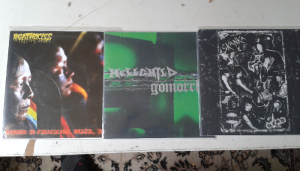 "Ruins" is ISKRA's third studio album and by far their best one yet. Recorded February 2014, Ruins was engineered and produced in true DIY fashion by ISKRA's own drummer Cody Baresich. The album was then mastered for vinyl at Sweden's CUTTING ROOM by Martin Ankelius. "Ruins" contains 10 punishing songs with lyrics ranging from anarchist theory, military drone strikes on civilian populations, historic native american battles against european colonialism, and a yearning to be free from draconian laws. Combined with over the top riffs, devastating blast beats, pulverizing toms, and the occasional dive bomb this LP will leave your speakers smoldering. Not only is this one of the most intense records PROFANE EXISTENCE has ever done, it is also one of the most beautiful presentations we have seen in recent years. The stark mountainous cover resembles Middle Earth artwork but the real gem is the 11in x 11in 12 page booklet inside. Printed on glossy paper, this booklet contains not just lyrics but very thorough explanations of each song.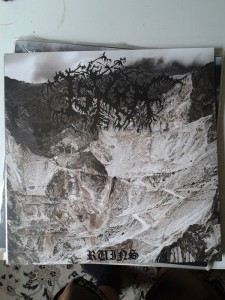 Great power violence split LP from germany's BIZARRE X and the US outfit Godstomper 17 tracks of power violence, great stuff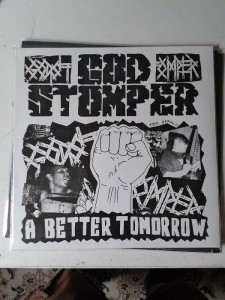 Last copies! 26 tracks, features some unreleased tracks from 1998 as well as all of their previously released material. It is an onslaught of aggressive hardcore thrash. The lyrics are angry political ditties about 21st Century life, and the delivery is brutal, ugly and uncompromising. They play some fast power thrash, some slower more brutal material, and some simply ugly sounding noise. Combine all of this together and you get some awesome hardcore. Vicious and mean.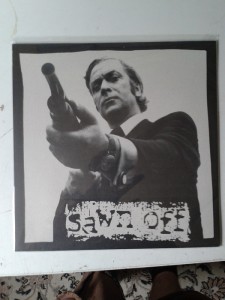 Crutches from Malmö (Sweden) is a political d-beat band were born from the ashes of Project Hopeless. This is their 2nd album and if you like old good Japan noise like Disclose/Framtid mixed with classic scandinavian crust school Anti Cimex/Crude SS you can' t miss it! "Recorded in the moldy basement/rehearsal studio the Nidis out at NorragrÀnges Malmö between Jan and May 2015. We get a whirlwind of madness and a new record filled with anger furiousity that'll make you shiver. 10 new tracks of political d-beat raw MANGEL punk." – word!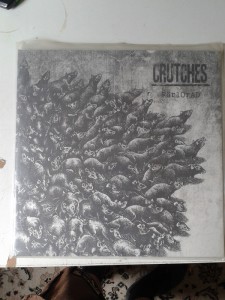 Full-throttle speedy thrash from Japan – fuck, this record rules. This is archetypal thrash, quintessential crossover, a perfectly balanced mix of metal and punk. It's still mostly thrash in a punk sorta way, but the cut-off jean jacket vests and BC Rich guitars make it clear they've been listening to their Nuclear Assault records too. Metal riffs, punk riffs, double kick, high energy, 1-note two-second guitar solos and lyrics in Japanese – what more could you want? Fans of DRI, Municipal Waste, Strong Intention, etc will definitely dig this.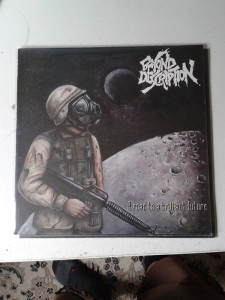 Undisputed underground Death Metal split from Poland! TDG hit perfectly as always on swedisch style + cover AUTOPSY. IOE – righly recommended if you like BOLT THROWER, VITAL REMAINS, DEICIDE. Dark splatter vinyl housed in black ineersleeve, fold-out insert and artwork graphics done by Folgin/IOE and Szymon/UBERRETARD.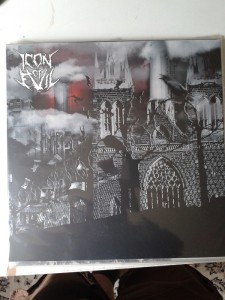 Finnish Dispair strikes back: 5 new sonx of D-beat Varkukers and Discharge worship. Nothing more to say…
Can you guess what style these bands play? You got it – raw d-beat punk! Dispose are, as we know, the main defenders of the Dis in Sweden and Disease from Macedonia are the perfect match for this split. If you're looking for surprises you should look elsewhere, but if you're up for some raw punk this is the place to go.
Noisy D-beat raw punk attack outta Gothenburg. 6 tracks crashing DIS-noise incl. covers of KAAOS nad WARCOLLAPSE!
ULCERRHOEA WITH 9 ULTRAFAST CRUSTGRIND TRACKS AND BIZARRE X = 4 DRUM´BASS SMASHER,INCL.ROT COVER, LIMITED TO 500 COPIES