After more than a decade sharpening their thermonuclear killing skills, these two long-running megapowers of underground grindcore finally collide in a spectacular display of insane speed and power! Revel in the radioactive glory of unrestrained grinding slaughter as your turn table becomes ground zero! Japan's sewer-bursting grind mutants MORTALIZED launch a hellish half-a-slab of dastardly death rockets while Australian ultracore wankers THE KILL return fire with another brain-broiling barrage of their infamously fast-as-fuck thrash-infused grindcore! Brace yourself for a quick but satisfying death.
Two Japanese grindcore megaforces join together to just destroy your stylus. Brand new material from both bands.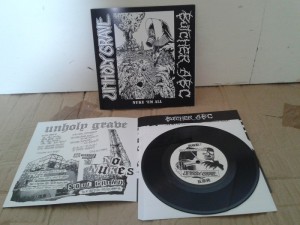 Japan's raw grind gods are back with a full 7″EP. 9 tracks recorded at Holiday Nagoya back in 2009. Unholy Grave have been grinding for over 20 years now and havn't lost a bit of their edge. Respect the masters!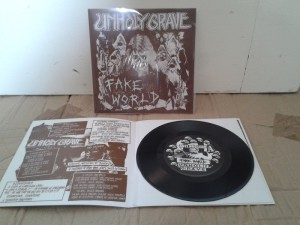 New York's MALIGNANCY play an extremely intense blend of technical death-metal and grindcore loaded with pinch harmonics and slam parts. This is their most recent release in the form of a 7″ single with a new song on the A-side and an ATROCITY cover on the B-side.